Kruger Park Birding by Region |
Limpopo Trans | Frontier Park
The 10 000 square kilometre Limpopo National Park was formally a hunting concession, Coutada 16, before its status changed to that of a protected area in 2003 when it was incorporated into the Greater Limpopo Transfrontier Park.
Limpopo Trans-Frontier Park
Gonarezhou
Limpopo National Park
The Kruger National Park is the cornerstone of what will become one of the world's biggest game reserves, the Greater Limpopo Transfrontier Park. Agreement has been reached to merge Kruger with the Limpopo National Park in Mozambique and Gonarezhou in Zimbabwe to create a 30 000 square kilometre game reserve spanning three countries.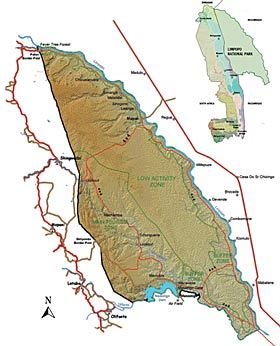 Both neighbouring reserves remain under-developed. Limpopo National Park is accessible from Kruger through Giriyondo and Pafuri Border Gates. Gonarezhou is not. A strip of settled land separates Kruger's northern border from Gonarezhou and it is likely to be some time before the Zimbabwean national park is incorporated into the transfrontier vision.
The Parque Nacional do Limpopo consists mainly of low-lying coastal plains under terminalia and Mopane woodland savanna with extensive tracts of grassland. These flats were once ancient sea beds and the soils are very sandy. The sharply rising Lebombo forms the western boundary with Kruger. This area along the Lebombo gets 400mm of rainfall a year, compared to the 800mm that falls on the eastern boundary of the Park, closer to the coast.
The Park's key feature is Mozambique's second largest reservoir, the 103 square kilometre Massingir Dam. Built in the 1970s on the Olifants River, it has been dogged by problems and has never been more than half full. The rehabilitation of the 4,6km long dam wall has created widespread concern that rising water levels will destroy the unique Bangu Gorge where the Olifants cuts through the Lebombo.
Limpopo National Park is accessible through two Kruger border gates - at Giriyondo, north of Letaba, and Pafuri in the far north. Be warned that the roads are as yet unrehabilitated and a 4x4 vehicle is necessary to negotiate the tracks. The Park still has high human habitation, particularly along the road from Pafuri to Mapai as it follows the Limpopo River. Habitat destruction has taken its toll on the Limpopo National Park and game viewing and birding have been adversely affected.
Nonetheless, there are healthy populations of Southern Ground-Hornbills and Bateleurs. Other birds to look out for include the Red-necked Falcon, Tropical Boubou, Violet-eared Waxbill, Meve's Starling, Eastern Nicator*, White-backed Night-Heron and Lemon-breasted Canary. Rudd's Appalis and the Pink-throated Twinspot are restricted to the sandveld adjoining northern Kruger.