Kruger Park Birding | Eagles and Hawk | Eagles
Birding Raptor Guide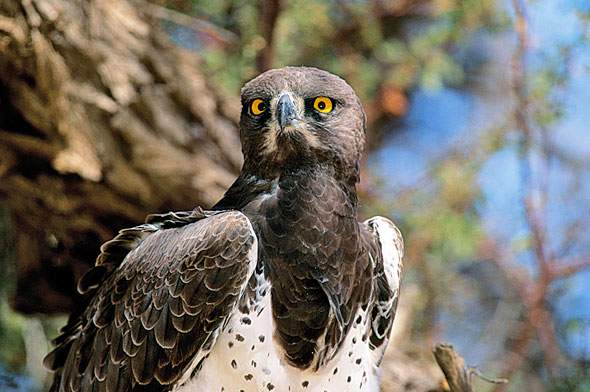 Eagles are the most well-known raptors. They are large, powerful and aggressive hunters that have fully feathered legs and hunt medium-sized and small animals. Fifteen of South Africa's 17 eagle species are regularly found in Kruger, nine of which are permanent residents. The Martial, African-Crowned and Verreauxs' are known as the Big Three Kruger eagles.
Martial Eagle (Polemaetus bellicosus)
Afrikaans: BreŽkoparend
The Martial is the most commonly seen of the Big Three, occurring throughout the Park. It is the largest of the African eagles with a tip-to-tip wingspan of up to 2.6m. Its military-like bearing and powerful hunting skills make it a highly impressive raptor.
There are an estimated 256 resident pairs in Kruger with each pair nesting at least nine kilometres apart. It spends much of its time soaring, often covering distances of up to 100 square kilometres a day, preying on game birds, reptiles and small animals.
According to birding author Richard Liversidge, the heaviest recorded prey of a Martial was an antelope weighing almost 37kg, which the eagle killed and ate on the ground. One of the Martial's favourite foods is the water monitor or leguaan.
Martial Eagles are usually shy, silent and monogamous. Pairs breed between April and August, building large nests lined with green leaves in the main fork of a large tree - often a Knob-thorn. One egg is usually laid and takes up to 50 days to incubate. Chicks are fed mostly by the larger female, while the male provides the food.
Adult Height

78-83cm

Weight

3-4.7kg

Wingspan

1.95-2.6m
Large head; back and chest are dark brown; distinctive white underparts with dark spots; in flight it appears mostly dark with white belly and a short tail with narrow barring.
Resident
Prey

Prey consists of forty-five percent birds, particularly game birds and Egyptian Geese; thirty-eight percent reptiles - mainly snakes and leguaans; and seventeen percent mammals such as mongooses, baboons, young warthog and impala lambs.

Where best to find them

Throughout Kruger, particularly in the eastern grasslands and flat open woodlands where prey is plentiful; also along watercourses in search of leguaans.
African Crowned Eagle (Stephanoaetus coronatus)
Afrikaans: Kroonarend
The African Crowned Eagle has a bigger body than Verreauxs' Eagle but a smaller wingspan, which is an adaptation to its preferred habitat - thick, riverine bush. It will not hesitate to swoop through dense bush canopy to get its prey.
The smaller wings give it more manoeuvrability when flying low through the forest than those raptors with larger wings. Its colouring is also suited to the habitat - the mottled chest fits in well with the dappled sunlight of riverine forests.
This powerful bird is reportedly stronger than both the Verreauxs' and Martial Eagles. Like them, the African Crowned Eagle is a collaborative hunter - one bird flies low over the trees to cause panic amongst a troop of monkeys, while its mate attacks from the other side.
Any monkey caught off guard will be seized by the skull and killed instantly before being taken back to the nest for shared consumption. Pairs are closely bonded and use the same nest year after year. It is a very vocal bird, calling kwee kwee kwee during its quite spectacular breeding season displays.
Traditional healer Didiza Dube has reported seeing the African Crowned Eagle on an ants' nest, spreading its wings and breast feathers to allow the insects to climb over its body. It is believed the bird does this to agitate the ants into releasing formic acid, which kills parasites on the skin or feathers.
Adult Height

80-90cm

Weight

3.6kg

Wingspan

2.1m
Crowned head, dark colouration, mottled chest; well-rounded wings in flight and a long, barred tail.
Resident
Prey

About ninty-six percent of diet consists of mammals, partituclarly monkeys, mongooses, dassies and occasionally young antelope; otherwise birds and occasionally reptiles; will sometimes dismember prey and hide portions in trees for future use.

Where best to find them

Favours riverine forest - particularly Luvuvhu and Limpopo Rivers; occurs sporadically elsewhere.