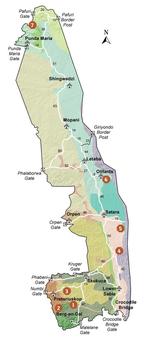 Discover the best birding walking trails in Kruger Park. Each walk has a trail camp that has been carefully sited in scenic surroundings. The trails take a maximum of eight people - no children under 16 or people over 65 are permitted, although exceptions can be made on presentation of a doctor's certificate.
1. Wolhuter
2. Bushmans
3. Napi
4. Metsi-Metsi
5. Sweni
6. Olifants
7. Nyalaland

©Brett Hilton Barber
Groups spend three nights in four, rustic, two-bed huts. Ablution facilities comprise reed-walled showers and flush toilets and there is a covered lapa, which serves as a dining and socialising area. Simple meals are provided. Each day, the party sets off on a different walk, returning to the Trail Camp at noon.