© Brett Hilton Barber
The best feature of the drive between Shingwedzi and Punda Maria is the Mphongolo Loop (S56). It is a highly recommended detour off the main road north (H1-7)
.
Birding Map of Kruger Park Northern Region
Shingwedzi to Punda Maria
Shingwedzi to Punda Maria(H1-7)
The Lamont Loop (S55) north of Shingwedzi has pleasant views over the wide, sandy riverbed, with elephant sightings almost a certainty. Much of the H1-7 goes through Mopane scrubveld where there is low birding activity, particularly in winter. The water holes at Nkulumbeni South and Nwarihlangari are usually quiet. During dry periods there may be an influx of Larklike Buntings in this area.
Bateleur camp
The mopaneveld can be a bit bleak for birding in winter. However, within this landscape there are a number of diverse mini-habitats, particularly around water. The birding at these transition points is usually good. One such isolated habitat is to be found at Bateleur Camp, which sits on the edge of a thornveld intrusion at the extreme west end of the Red Rocks Loop. Bateleur is the oldest and smallest of the bushveld camps with seven self-catering units. It can cater for conferences of up to 30 people.
There is no shop, but ice and firewood are for sale. The camp is surrounded by tall trees and diverse vegetation. Among the dominant birds here is the cheeky Arrow-marked Babbler, which appears to have no sense of fear at all. Unsurprisingly, this landscape is favoured by the Bateleur, which flies low over the canopy in its search for carrion or prey.
Bateleur is an ideal birding camp because visitors have access to the Shingomane Dam right next to the camp and Rooibosrandt Dam, a large expanse of water, some nine kilometres away. All the classic Kruger waterbirds can be seen at both these dams - the African Spoonbill, Yellow-billed Stork, and African Fish-Eagle. There are also routine sightings of the Little Stint and Black-winged Stilt, Greater Painted-snipe, White-backed Duck, Common Redshank and even Osprey, which are not commonly seen in Kruger. Another uncommon sighting here is the African Cuckoo Hawk. Raptors often perch in the tall dead trees in the dam.
Birds associated with Bateleur include the Shikra* and Southern Ground-Hornbill, both of which nest near the camp. Distinctive night sounds at Bateleur include the calls of the Pearl-spotted Owlet, Groundscraper Thrush and Rufous-cheeked Nightjar.
Mphongolo Loop
Mphongolo Loop (S56) is midway between Shingwedzi and Punda Maria. The dust road winds through gallery Mopane woodland into some magnificent strips of riverine forest. This is a tree-lover's delight with huge Ebony Jackal-berries and Nyalas, clusters of Fever-trees, Lala-palms, acacias, figs and Leadwoods. There is a very good birding spot at the Sirheni turn-off, where the Thick-billed Cuckoo may be seen. Southern Ground-Hornbills, Southern Carmine and European Bee-eaters are active in the riverine bush.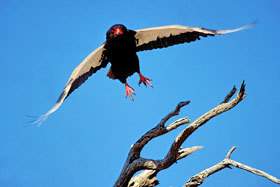 Bateleur Mythology
Extract from the writings of Xhosa-speaking essayist Nimon Ndingi from the early 20th century when the Bateleur had a wide range over southern Africa (translated from Xhosa by Rev Robert Godfrey):
'The Bateleur has an awe-inspiring spell. When it appears high overhead, some evil fortune is sure to happen. When any misfortune is about to happen in a person's village, such as the death of one of his family or perhaps of his cattle, the bird proclaims it by flying straight over the huts, uttering a cry that makes one's blood run cold, flapping its wings and calling ha-a-a-a!
It maintains this sorrowful cry as it circles around the person's village. Off he goes that very day to summon the witch doctors to his home. The bird usually appears when war is imminent, appearing in numbers when anything of that kind is about to happen.
The birds wail over contending armies. When one of the warriors is killed, down comes a Bateleur maintaining this sad wail, plucks out one eye and then leaves him. For these reasons this bird is held in high repute among the men; it is not killed by any Tom, Dick or Harry, but by witch doctors only, and even witch doctors must take precautions by rendering their family immune before killing it, for great damage might be done to their villages in the event of their killing it.'
(From Bird Lore of the Eastern Cape Province), Rev Robert Godfrey. See Snake-Eagles and The bird of war.
Babalala to Dzundwini (H1-7)
Babalala Picnic Site is next to a small water hole between the open Mopane shrubveld to the east and the mixed Mopane woodlands to the west. There are toilet and braai facilities at the picnic site and wood, ice and cold drinks are for sale. Rangers say the grasslands around Babalala offer the best chances of seeing cheetah in the northern Park.
The tropical savanna wetlands north of Babalala are a key stop-over for some of Kruger's rarest waterbirds. The wetlands are part of the Shisha River system, and in summer form a series of protected vleis, which BirdLife SA has identified as an important habitat for some of South Africa's rarest birds. This is the place to break for a crake. The Corn Crake, African Crake and more common Black Crake are all summer possibilities at Dokweni, Mawawi and Shisha West along the H1-7.
Crakes appear to be nomadic and/or intra-African migrants that are most often seen in Kruger during very wet years. The Black Crake is easily identified by its entirely black body and bright yellow bill. The African Crake is olive-brown with distinct, barred, lower underparts and crowned forehead, while the Corn Crake - a very rare sighting - is a paler brown and more lightly flecked. Crakes are shy and are reluctantly flushed.
Other uncommon summer birds to look out for are the Black Coucal, Greater Painted-snipe and Rufous-winged Cisticola. The female of this species builds a nest which is pure bushveld decor. She uses spider web to bind dry and living grass together into an elegant oval nest, decorated with cocoons and bark. See Punda Maria to Dzundzwini Hill.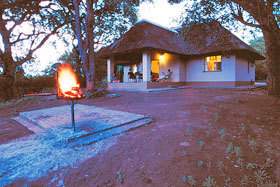 Sirheni Camp
Sirheni lies in riverine bush on the edge of the mopaneveld some 54km from Shingwedzi on the northern end of the Mphongololo Loop. The camp is surrounded by established acacias and Mopanes, Silver Cluster-leaf and Leadwoods.
Sirheni is renowned as a birders' camp. Guests have exclusive use of the hide overlooking the Sirheni Dam, which according to camp staff, is often the site of kills. All the more common waterbirds can be seen at the dam. The more unusual birds to look out for are the Greater Painted-snipe, Rufous-bellied Heron, Collared Pratincole*, Black-winged Stilt, Dwarf Bittern and Whiskered Tern.
The Shisha River Weir, four kilometres away, is also a good birding spot where the Giant and Pied Kingfishers often hunt. There are infrequent sightings of Arnot's Chat on the Mopane fringes of the Mphongolo Spruit close to Sirheni.
The camp itself is a busy birding spot with a profusion of robin-chats, thrushes, parrots, orioles and weavers. Sirheni has 15 self-catering cottages. Electricity is generator powered and there are fridges in each of the units. There is no shop although firewood and ice can be purchased. The camp offers guided bush walks and drives as well as a specialist botanical guide. Sirheni is known for its accipiters and smaller raptors such as the Eurasian Hobbies*, Lanner Falcon, Dickinson's Kestrel, Lesser Kestrel and Amur Falcon*.