© Brett Hilton Barber
A feature of the Crocodile River Road (S25) is how quickly the landscape changes once one leaves the rain face of the south-western foothills.
Birding Map of South-West Kruger Park
Malelane to Crocodile River
Crocodile River Road (S25)
The road enters a more arid zone soon after the turn-off to Malelane, and follows the river through a variety of habitats from thick woodland into the thorn thickets that characterise the Crocodile River Valley. Because of the proximity of the river and the number of tributaries flowing into it, one is almost guaranteed interesting sightings along the drive.
It is a rewarding drive for raptors, especially the Martial Eagle and the African Hawk-Eagle. However, the development on the other side of the Crocodile River is all too obvious in places, and diminishes the quality of the bush experience. See Malelane to Skukuza via Biyamiti Weir and Crocodile River Road.
Of course, this drive can be taken FROM Crocodile Bridge to Malelane.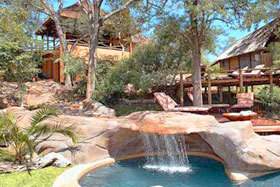 Where to Stay in South-west