© Brett Hilton Barber
"Many people make the mistake of assuming that birds are motivated by emotions similar to our own. This attitude should be avoided altogether. Birds are simple animals, and most of their behaviour can be interpreted as being caused by aggression, fear, parental and sexual motivation." Ken Newman (Birdlife in southern Africa)
Birding Map of Kruger Park South-East Region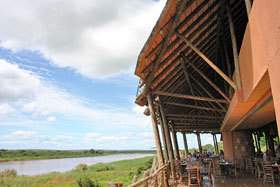 LOWER SABIE CAMP
Lower Sabie is an excellent place to base onself for a birding weekend in south-eastern Kruger. It is a large camp with restaurant, shop, fuel and camping facilities. The nearby Muntshe and Mlondozi ecosystems are two of the top birding spots in the Park.
At the camp one is welcomed by a noisy community of Village Weavers and Lesser Masked-Weavers which nest communally outside the reception area and offices. There are an estimated 65 000 Village Weavers in Kruger.
They feed mostly on insects but also like the nectar of flowers from the Weeping Boer-bean and Sacred Coral-trees. They are gregarious birds, often sharing nesting colonies with the more commonly found Lesser Masked-Weavers. Roberts VII estimates there are some 130 000 of these birds in Kruger, sometimes nesting in colonies of up to 2 000 birds. They are very active at dawn and dusk, chattering loudly before settling or dispersing. Village Weavers are occasionally parasitised by the Diderick Cuckoo.
They are especially wary of boomslangs and African Harrier-Hawks, which try and rob their nests. These weavers will mob any approaching predator. Lower Sabie has an expansive viewing deck overlooking the Sabie River where fish-eaters such as the Goliath and Green-backed Herons can be seen, as well as Great Reed-Warbler and - if one is very lucky - the rare Little Bittern. The tall acacias and other trees attract a profusion of starlings, weavers, bulbuls, woodpeckers, cuckoos and hornbills.
Little Bitterns are solitary feeders, creeping along river banks and spearing their prey of frogs and lizards with sharp bills. They appear in Kruger in December from their Eurasian breeding grounds and then depart again in April. Sunbirds are plentiful here, drawn by the aloes in the garden. Raptors such as the Gabar Goshawk can be seen occasionally from the restaurant area. Look out for the Grey-headed Bush-Shrike, Grey Tit-Flycatcher and Red-faced Cisticola at Lower Sabie. At night, listen out for the Square-tailed and Fiery-necked Nightjars and a variety of owls, including Verreaux's Eagle-Owl, African Scops-Owl and the African Barred Owlet.
In the grasslands around Lower Sabie, keep a look out for the smaller savanna species and game birds which are usually difficult to see in summer, especially when there has been a lot of rain and the vegetation is thick. Towards the end of winter, however, when the grass has been overgrazed - or burnt - the Senegal Lapwing and Temminck's Courser may be seen. The Senegal Lapwing is a non-breeding summer visitor to Kruger that is becoming increasingly rare in southern Africa. Game birds in these grasslands include Swainson's Spurfowl, Harlequin Quail and Kurrichane Buttonquail.
Lower Sabie to Skukuza via Nkuhlu Picnic Spot (H4-1)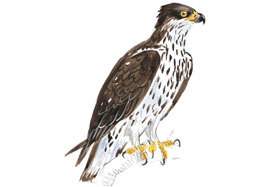 The main road between Lower Sabie and Skukuza is one of the busiest in the Park, both in terms of traffic and the diversity and number of birds to be seen. The road crosses a number of habitats within a relatively short distance as it tracks the Sabie River.
The Sabie has the coolest water in Kruger because it descends so rapidly from its source high in the escarpment. This ensures a rich aquatic life attractive to birds. The 43km drive passes through grassland, thick thornveld, mixed woodland and some magnificent and mature riverine forest along the river banks.
Half a kilometre from Lower Sabie is Sunset Dam, which should actually be named Sunrise Dam because that's the best time for game viewing at this water hole. At sunset, one looks into the sun, which is more conducive to romance that to bird-watching.
There are two "car-parks" at Sunset - the better one for birders is the side of the dam closest to Skukuza where there is a view out over the water onto dead trees with Red-billed Buffalo-Weaver nests in their branches. Storks favour Sunset Dam and among those that may be seen are the Marabou, Black, Woolly-necked, Yellow-billed and African Openbill.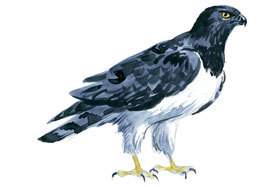 There are usually cormorants and kingfishers here too, as well as the Blacksmith Lapwing, which appears to be resident on the tar road side of the dam. It is usually found in pairs or small groups near water - it lays its eggs in depressions in the soil, often using the hoof-prints of large animals as a "nest". Although eggs and nestlings are quite vulnerable to predators, adults appear to be somewhat unpalatable to most raptors. They react very aggressively towards predators, particularly during breeding season. Among the rarities spotted at Sunset Dam is the Pied Avocet, a coastal namod that appears to have been extending its habitat into the lowveld and Zimbabwe since the 1980s.
Between Lower Sabie and Nkuhlu, one of the sights to look out for is a large breeding colony of White-fronted Bee-eaters residing in a large donga on the side of the road. These birds have complex social organisations with a breeding pair having several helpers which make up loose families. Over several years these families appear to form stable, territorial clans which never stray too far from their breeding sites in steep riverbanks and watercourses.
N'watimhiri causeway (S79) is a particularly good three kilometre stretch of road because this is a convergence of birding channels - the N'watimhiri stream and the Sabie river.
White-crowned Lapwing, which usually occur only north of the Olifants River, may be seen on this stretch of the river up to Nkuhlu Picnic Site. They constitute a rare sighting as there are only about 90 breeding pairs of this species in the Park. One of their characteristics is their aggressive, territorial behaviour in which they defend their turf (of about half a kilometre per pair) from other lapwings and waders.
The terraces at Nkuhlu allow one a good vantage point over the river where there is usually a lot of waterbird activity. Half-collared Kingfishers have sometimes been seen at Nkuhlu. There is uncertainty as to whether these smallish, black-billed kingfishers are permanent residents - conventional wisdom is that they are altitudinal migrants, only appearing in summer in Kruger during seasons of high rainfall.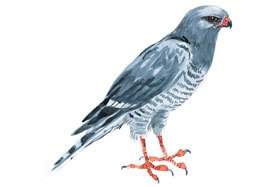 The Half-collared Kingfisher preys mostly on tilapia and other small fish - it snatches them from a few centimetres below the water surface and then carries them back to its perch where it beats them to death on a branch before swallowing them.
There are irregular sightings at Nkuhlu of the secretive African Finfoot, which appears to be quite common along the Sabie River but extremely rare elsewhere. This shy bird is distinguished from darters and cormorants by its bright orange legs. For a waterbird, the African Finfoot is a surprisingly good tree climber, moving dexterously along branches and nesting in thick foliage above riverine pools. It is mostly an insect-eater but has been recorded killing small snakes. (See Skukuza to Nkuhlu.)
Lower Sabie to Skukuza via Salitjie Road (S30)
This dirt road through the lightly wooded grassland is a quieter alternative to the main road between Lower Sabie and Skukuza via Nkuhlu - but has far less river frontage. It crosses the lightly-wooded grassland plains on the northern catchment slopes of the Sabie River. The road climbs and dips over a series of long, rolling ascents and descents through the contours of the Sabie River valley where the landscape shifts from bushwillow and Round-leaved Bloodwood scrub in the east to the mixed Knob-thorn woodland of central Kruger.
Rollers and Southern Yellow-billed Hornbills are plentiful on this road of tall trees and rich climax grassland until it reaches the northern bank of the Sabie River. There are several lookout points shaded by wonderful Natal-mahoganies, Leadwoods, Red Ivories and Sycamore Figs. The African Finfoot lurks in the quieter pools. In summer Wahlberg's Eagle and Yellow-billed Kite cruise above the river.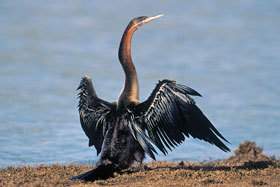 The Snake Bird
The African Darter (Anhinga melanogaster) is also known as the 'Snake Bird' because of its slender neck and habit of swimming in the water with only the neck showing. It can spend up to a minute underwater when catching fish. It spears them with its sharp bill and brings them to the surface to eat. Its characteristic open-winged pose is not only to dry itself off but to aid digestion after eating its prey.
Where to Stay