Mahonie Loop, a 25km circular drive around Punda Maria camp is one of the most rewarding birding drives in the Park for those after rare sightings.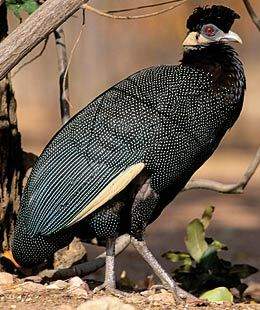 Best Birding Drives
Image : Crested Guinea-fowl
Mahonie Loop (S99)

The surrounding sandveld has a diversity of vegetation that is reflected in the variety of avian attractions. One should give oneself plenty of time to cover the distance, and travel with windows down and stop frequently, particularly to listern for calls.
Several raptors nest nearby, including Bateleur, African Hawk-Eagle, African Crowned Eagle and Bat Hawk. A Mahonie Loop summer special is the Pennant-winged Nightjar.
(See Mahonie Loop)
On a good day one could record birds such as the White-breasted Cuckoo-shrike, Arnot's Chat, Crowned Hornbill, Grey-headed Kingfisher*, Crested Guineafowl, Gorgeous Bush-Shrike, Grey-headed Parrot, Eurasian Golden Oriole* (in summer), Eastern Nicator*, Stierling's Wren-Warbler*, Narina Trogon and Dickinson's Kestrel.