Satara is vulture territory because it is situated in the prime predator hunting grounds of central Kruger. These grasslands are a rich source of food for all animals in the Park - the hunters and the hunted.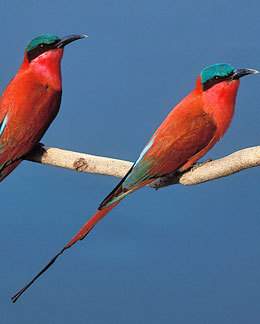 Best Birding Drives
Satara to the Lebombo along the N'wanetsi River (S100, S41)

Bigger raptors such as the Martial Eagle, Tawny Eagle and the Bateleur are visible all year round. Kruger's biggest grassland birds - Common Ostrich*, Secretarybird and Kori Bustard - are often seen along the S100 that follows the N'wanetsi River between Satara and the Lebombo. These plains have a wide variety of smaller grassland species, particularly starlings.
In summer, there are many Southern Carmine Bee-eaters along this road, which has several inspiring stopping points in the bush along the N'wanetsi. Specialities associated with this area are the Sabota Lark and African Pipit*.
N'wanetsi Picnic Site is downstream from Singita Lebombo on the N'wanetsi River and is renowned for the Violet-eared Waxbill and Yellow-bellied Greenbul*. Sweni Water Hole, just south of N'wanetsi on the Trichardt Road (S37) is a good winter birding spot. In summer, it's the most reliable spot in Kruger to see the Blue-cheeked Bee-eater.
(Read also: Satara to Nwanetsi).