The Napi Road (H1-1) links Numbi Gate in the south-western foothills to Skukuza.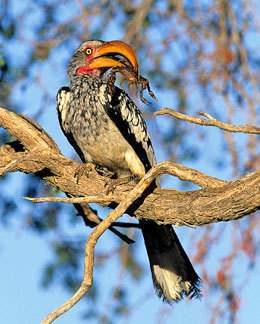 Best Birding Drives
Image : Southern Yellow-billed Hornbill
Napi Road (H1-1)
The Napi Road initially winds through the high-rainfall terminalia and Kiaat Bloodwood woodlands, which are home to many smaller raptors such as the African Cuckoo Hawk. Kestrels and falcons, which prey on both insects and other birds, are common during the rainy season. They are more adept at hunting in the denser vegetation than the bigger raptors are.
Many Drakensberg species such as the Yellow-throated Longclaw are found in the higher Kruger altitudes around Numbi. East of Pretoriuskop, the tar road (H1-1)descends into the grasslands of the Biyamiti catchment area where there are plenty of larks, cisticolas and other grassland birds. There is usually an African Fish-Eagle at Shitlhave Dam, which has a huge Hamerkop nest in a dead tree sticking out of the water.
East of Shithlave the landscape shifts into Knob-thorn country that marks the start of the sweetveld. Birds particularly associated with Knob-thorn woodland savanna are the Southern Yellow-billed Hornbill and Magpie Shrike* - an easily recognisable, blue-black bird with white shoulder patches and a long tail.
There are many Red-billed Buffalo-Weaver nests along the Napi Road, which rolls through the gentle foothills of the Sabie River valley and descends into the thorn thickets around Skukuza.
The road takes its name from Napi Boulders, a prominent outcrop where owls may be seen at dusk. Transport Dam is usually a rewarding birding stop.
(See - Napi Road to Skukuza.)
Doispane Road (S1)
The Doispane Road (S1) between Phabeni and Skukuza goes through a variety of habitats, from thornveld and mixed woodlands to grasslands and riverine bush. This diversity lends itself to interesting birding. The Albasini Ruins, close to Phabeni Gate, is the first recommended stop and get-out point. This historical site is usually a busy birding spot because of the tall, fruiting trees and the nearby reed beds of the Phabeni Stream.
Nyamundwa Dam is a recommended stop. From there the rolling grasslands dip through a number of watercourses that feed into the Sabie River, and there are pockets of thick woodland interspersed with grassland.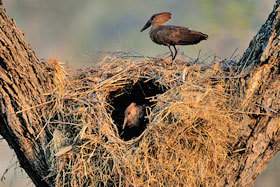 This is a favoured habitat for smaller raptors such as the Gabar Goshawk, Shikra and Little Sparrowhawk. This is a good winter drive because many altitudinal migrants from the escarpment may be seen. As one gets closer to Skukuza the landscape opens up and there is an increase in the number of hornbills along the road.
Leadwoods become common along the drainage lines and these are often favoured nesting sites for many bird species. Bateleurs are highly likely sightings and there is a good chance of seeing the Brown Snake-Eagle.
(See Diospane Road).