This is one of the Park's action roads' with the mix of riverine forest, woodlands and thorn thickets attracting a wide variety of bird and animal species.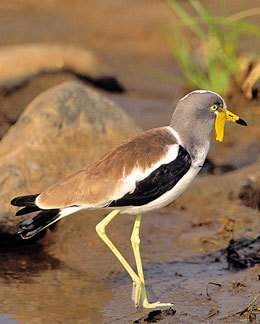 Best Birding Drives
Lower Sabie Road (Skukuza to Lower Sabie) (H4-1)
Many of Kruger's larger raptors can be seen along the Sabie, a favoured hunting ground for Wahlberg's Eagle, which nests along the river during its summer visits. There are many stops overlooking the Sabie River where one should look out for woodland accipiters such as the Little Sparrowhawk. Nkuhlu Picnic Spot provides wonderful views over the river reed beds.
It is one of the few places in southern Kruger where the White-crowned Lapwing* is found. If one is lucky, one may see the African Finfoot, Black Cuckoo-shrike, Half-collared Kingfisher and Red-faced Cisticola during the drive.
The N'watimhiri causeway takes one right onto the Sabie River, while Sunset Dam, just outside Lower Sabie, is one of Kruger's most photographed water holes and a great birding location. (See also: Crocodile Bridge and Skukuza to Lower Sabie).